Leave it to us in summer and winter!
WELCOME TO
AMUSE SPORTS
Canoeing, Rafting, Sup tours in summer
Rental Ski and Snowboard
Enjoy the nature by experiencing summer canoeing and rental ski.
Amusement Hokkaido offers two services. In summer, canoeing, rafting, and SUP are carried out in the fields of Chitose and Jozankei. In winter, we rent skis and snowboards to visitors to Sapporo, Niseko, Rusutsu, and Furano.
ACTIVITY
We offer canoe tours where you can fully experience the nature of Hokkaido such as Jozankei and Chitose Bibi River.
We also offer rafting courses and SUP in Toyohora River at the Jozankei.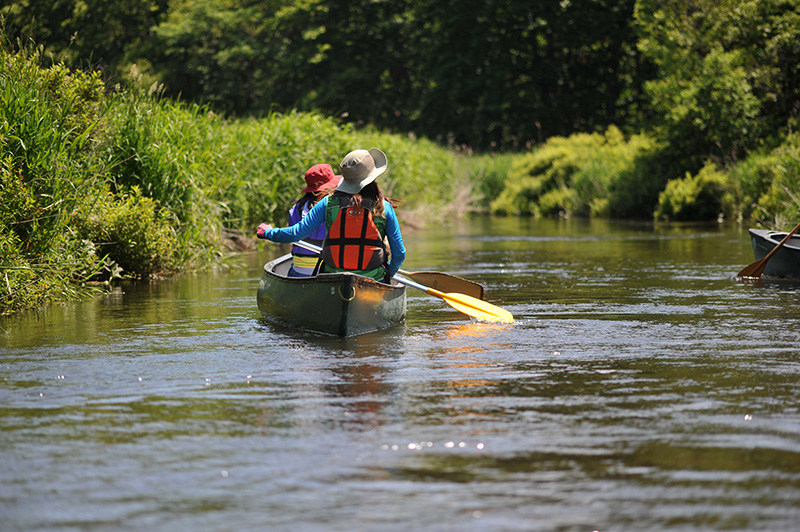 Chitose Bibi River Canoe Course
The Bibi River, which flows through Chitose City, meanders down to the wetland forest and joins Lake Utonai. Why don't you try experiencing canoe at this quiet and peaceful Bibi River? The lush greenery that surrounds you will surely heal your mind. This course starts from the 2nd Bibi River Canoe Port. The full course will take you near Lake Utonai while the half course goes down to the Bibigawa Tap-koppu Shinsui Park. We also offer special plan that includes "Wagyu Bibi" meal voucher.

Full Course:adults 5,000yen / Children 3,500yen / Infants 1,000yen
Half Course:adults 3,500yen / Children 2,500yen / Infants 1,000yen
Wagyu Bibi Meal Pack:adults 6,000yen / Children 4,500yen
Mt. Tarumae trekking with Meal Pack:adults 17,000yen(Single Participant 22,000yen)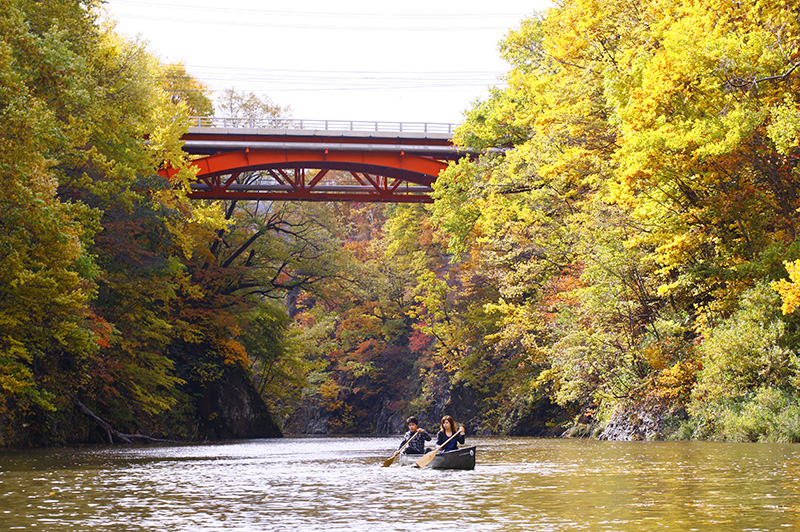 Jozankei Hot Spring & Canoe Tour
Jozankei Toyohira River Canoe Tour is near Jozankei Onsen, located upstream of the Toyohira River. You can enjoy the autumn leaves and enjoy the peaceful and beautiful river there. We also offer Jozankei forest bathing tour where you can enjoy the rich greenery of the Toyohira River and refresh your tired body at the hot springs at reasonable prices. There is also fruit picking package, pizza and jam making package as well. Please feel free to inquire for more information.

Jozankei Toyohira rivere canoe:adults 4,000yen / Children 3,000yen / Infants 1,000yen
Safari Park Pack(Canoe + North Safari entrance fee):adults 5,300yen / Children 3,300yen
One day hot spring pack(Canoe + Hot spring entrance fee):adults 5,500yen / Children 4,000yen
Fruit picking Pack(Canoe + Jozankei Farm entrance fee):adults 4,800yen / Children 3,500yen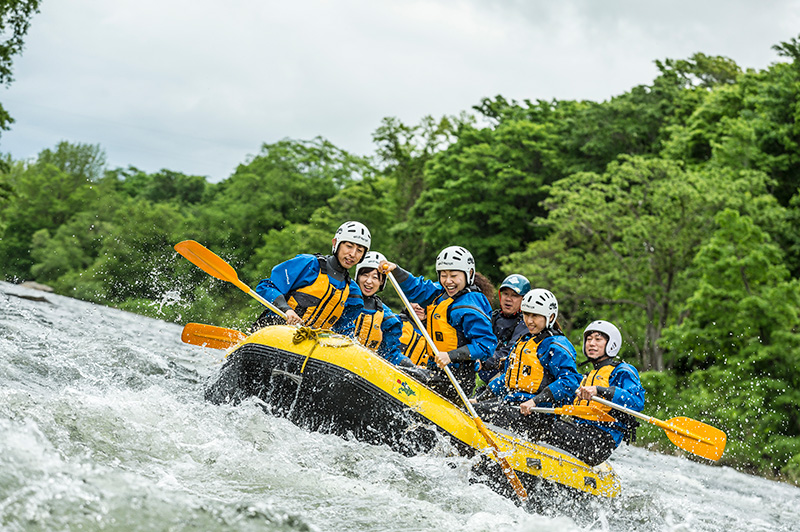 Jozankei Toyohira River Spring Rafting
Spring is the perfect and best time to experience rafting on the Jozankei Toyohira River where the thawing snow from winter raises the water level. For our first-time customers, our professional guides will give lectures carefully so do not worry! ※Lecture time takes about 2 and 1/2 hours. Jozankei course is only available for a limited time from late April to mid-June. We will take a raft boat and go down the torrent. The power of this torrent can only be experienced at this time of year! A professional guide will give a lecture and ride with you, so don't worry♪ ※Minimum number of participants, from 3 people
※1 boat : up to 7 people
※Tour duration : Approx. 2.5 hours
Jozankei Toyohira River Spring Rafting:adults 5,500yen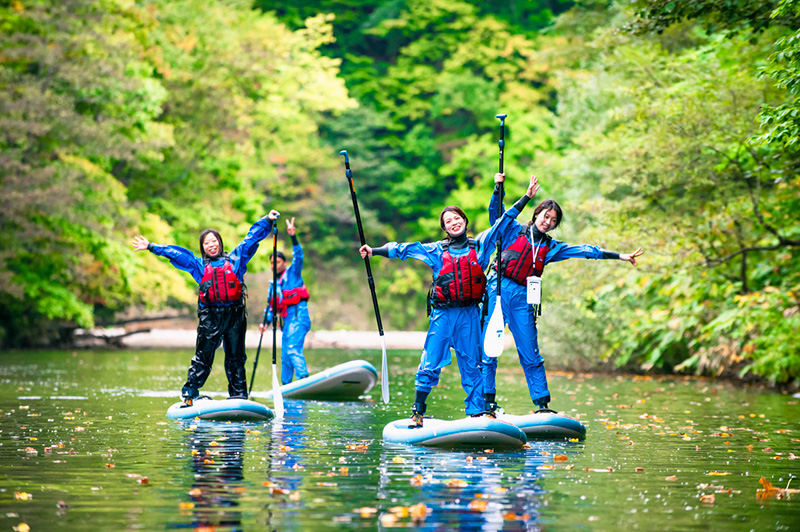 Jozankei Toyohira River SUP
The SUP tour course will take you to the bottom of the canyon next to the Jozankei Hot Spring Resort. Jozankei Onsen is a rare place where hot spring water is available even though it is located in Sapporo City. There are many anecdotes about kappa, and you may be able to meet one. (This is a joke). You can enjoy the scenery of each of the four seasons, with deep green in summer and crimson in autumn. You can even go into the water and jump in!
ACTIVITY MENU AT JOZANKEI
TOYOHIRA RIVER CANOE
CANOE + SAFARI PACK
CANOE + ONE-DAY HOT SPRING PACK
JOZANKEI SPRING RAFTING
ACTIVITY MENU AT CHITOSE
BIBI RIVER CANOE FULL COURSE
BIBI RIVER CANOE HALF COURSE
CANOE + WAGYU BIBI MEAL PACK
ACTIVITY BOOKING (JP)
ABOUT APPLICATION

By appointment only.
Depending on the availability, same-day reservations may be possible.(Except for the early morning canoe)
To reserve by phone, please call the Amuse Sports Reservation Center(open 10:00 to 17:00): 0570-011-411.

PAYMENT

Cash (Onsite payment)
※Credit card payment available only for the Bibigawa River course. [VISA, Master, JCB, MUFG]

CANCELLATION POLICY

2days before the reserved day : No charge, 1day before the reserved day : 50%, No-show : 100% (As of May 1st 2016)
In the case of cancellation, please contact us beforehand.
Please contact us as early as possible because our staff are preparing for your reservation.
※In the case of cancellation for the weather, we will notify you through our staff or the call center.

CHILDREN

Kids' fees are available for children in elemtary education.
Children can ride the canoes from about 3 years old. Please make the judgement based not on the age of the child but whether they can sit still. Children may not ride on their own.

Dogs

Dogs can join the canoe tours for free. You can borrow a life jacket for 500 yen. Please make a note when applying.
(Please note that dogs cannot join the rafting tours.)
CONTACT US : +81 136-46-3030
(10:00~17:00 JPTIME)
RENTAL SKI SERVICE
We are providing a wide range of standard skis to rent for both of the beginner and experienced skier. You can enjoy the wonderful powder snow in Hokkaido without travelling with your own ski equipment. If you want to rent snowboarding in Niseko, Rusutsu or HIrafu, go to Amuse sports.
Reservations for the 2023-2024 season will be accepted beginning November 1, 2023.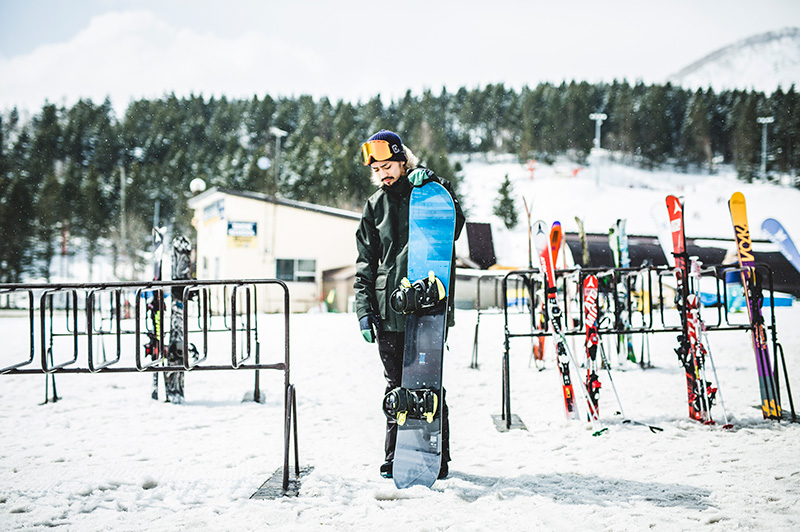 STANDARD SKIS, SNOWBOARD
Amuse Sports offer carving skis rental and packages for your option. It is perfect for all ages and abilities available on different sizes and options. A set of skis includes skis, poles and boots. Carving Skis Set of 3 from 3,100yen~/per day. Snowboard for rental are all soft flex boards with reasonable price. It is preferred by beginners or a skier who want to experience even for one day. Snowboard set of 2 items includes snowboard and boots. Snowboard set of 2 from 3,100yen~/per day.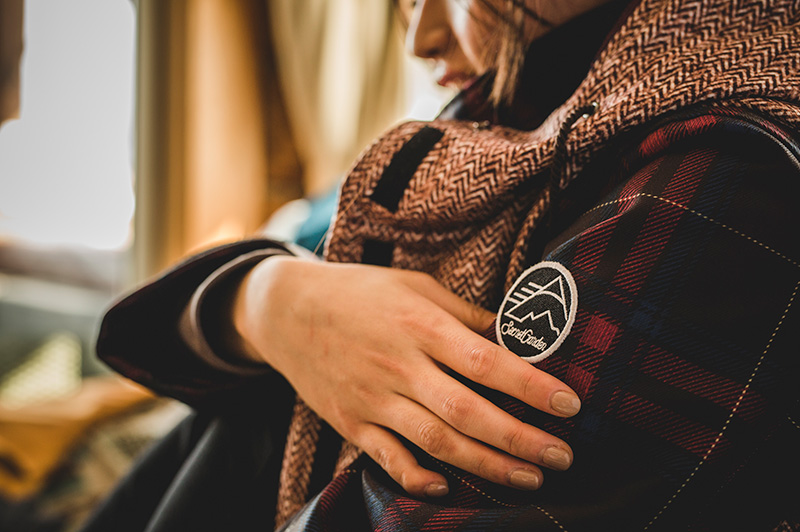 WEAR AND ACCESSORY
Ski wears rental not only saves your money but also get your satisfaction with. It is offered with a full range of 3 sized for men, women and children (every 10cm, between110-115cm).
Wears includes Jacket and Pants from 3,450yen~/per day. Accessories of 3 items includes goggle, knitted hat, gloves. Rental skis & snowboard with a set of accessories makes your trip more simple and easy. oreover, accessories are also available individually, when you forgot someting like the gloves, goggles etc. A set of accessories from 1,400yen~/per day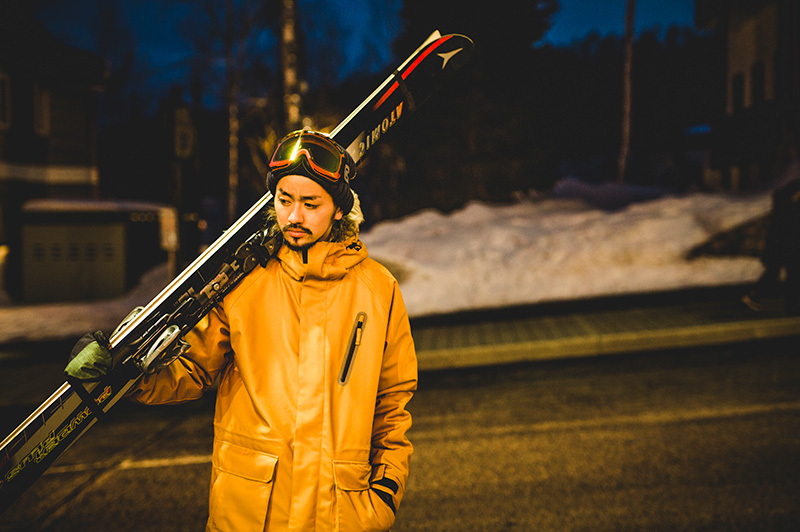 THE EXPRESS COURIER SERVICE
For those using Asahikawa Airport and Obihiro Airport. A convenient express courier service which delivers rental skis and snowboard to your hotel. The express courier service involves delivering rental skis and snowboard to your hotel. You don't need to pick them up at the store so you can go straight to the ski slope. Also available for those using Asahikawa Airport and Obihiro Airport Subjected areas : Furano, Sahoro, Tomamu, Mount Racey, Niseko Hilton, Green Leaf and Kiroro. *Apply at least 7 days in advance.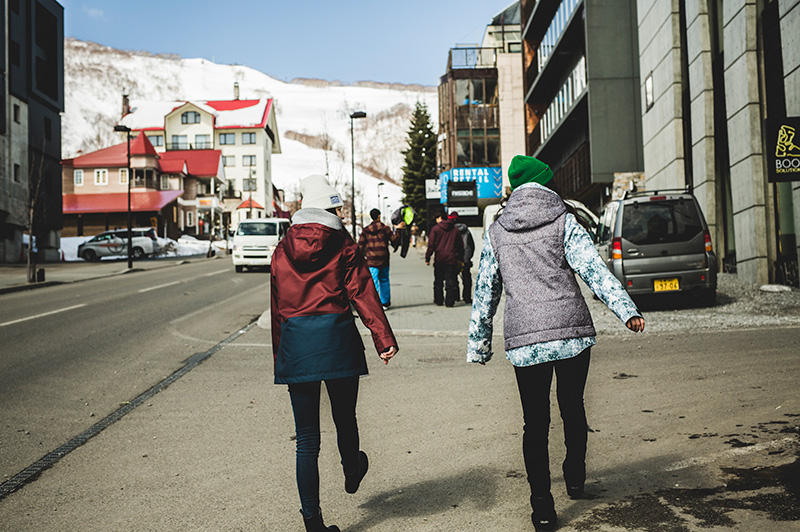 TRENDY LOOK WARM SET
Compared of buying outdoor clothes only for a short-term trip, rental is definitely a much better deal for tourists in Hokkaido. Our outdoor clothes are not only functional but also fashionable! You can use it as skiing/snowboard wearing, or as your outer garment when you are playing with snow or traveling around.
PICK UP RENTAL & DELIVERY AREA
NEW CHITOSE AIRPORT
RUSUTSU
NISEKO(Hirafu・Annupuri ONLY)
HOTELS IN SAPPORO CITY CENTER
THE EXPRESS COURIER AREA
FURANO
SAHORO
TOMAMU
Mt. RACEY
KIRORO
NISEKO Village Area
(HILTON・GREEN LEAF)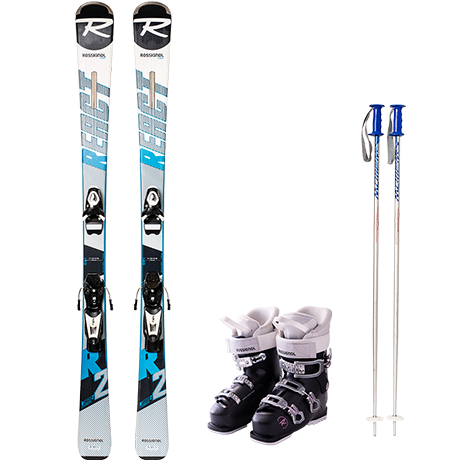 SKI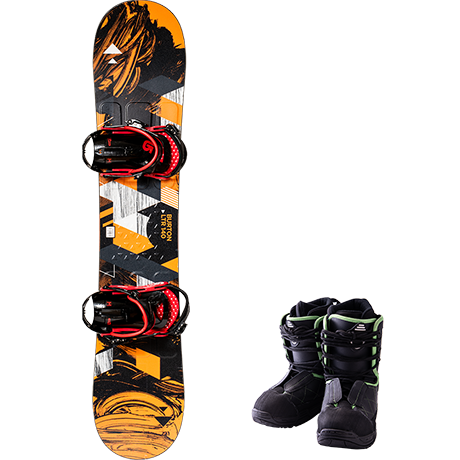 SNOWBOARD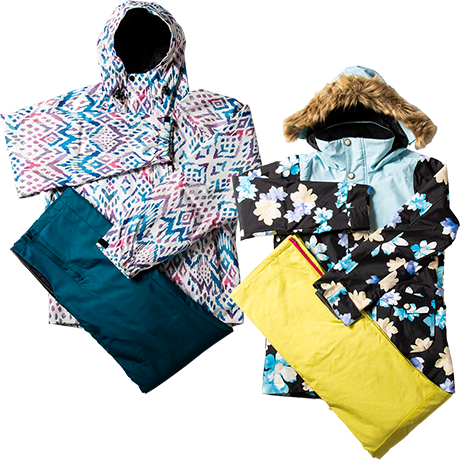 SKI WEAR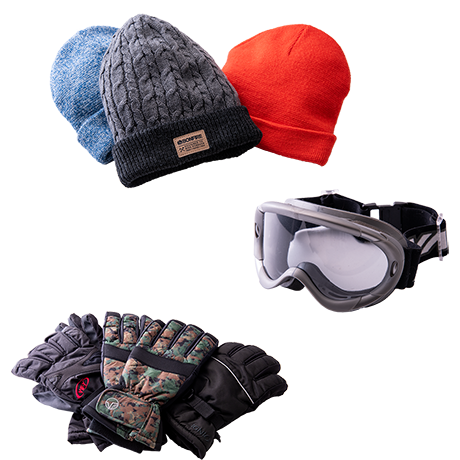 ACCESSORY
WEB or PHONE BOOKING
Early web booking make you save more! Confirmed bookings that made by 5 days before (* 7 days before for The Express Courier Service bookings) the rental date.
PAYMENT
We only accept credit card payments and Bank Transfer. [VISA, Master, JCB, MUFG, NICOS, DC]
PICK UP
We have set several pick-up spots around the place famous for playing with snow.
RETURN
After use, return the hire to the pick-up spot or send them back from the hotel (*The Express Courier Service only).
SHOPS and PICK UP SPOT
RESERVE ONLY
APPLY

Web discount are available for confirmed bookings that made by 5 days before (* 7 days before for The Express Courier Service bookings) the rental date through our website. Early bookings make you save more. Please check out your rental date and click the botton below to book. Discount rate depends on the date of booking. Book Early Save More (30days in advance, 15days in advance, 5days in advance)!

PHONE CALL

Please note that we apply the regular price for booking on phone in stead of web discount. After 5days before the discount date (rental date), please confirm the availability then book on phone and pay on your delivery date. (Call charges is paid by the caller.)

PAYMENT-BANK TRANSFER

Bank Account:Bank of Mitsubishi UFJ.Ltd. Sapporo Branch(Ordinary Deposit) 3211091 Amuse Rental

Basically, the due date of payment is within 3days after booking. Please pay for the next day when the rental date is less than 7days before using. Account name of the payer must be the representive named in the booking. If not, please inform us in advance or later on. Please fill out the rental date and the name of representitive as required when tranfering. i.e. Rental Date: 1st December →0112 Amuse Your Name
CONTACT US : +81 136-46-3030
(10:00~17:00 JPTIME)