Jozankei
Toyohira River SUP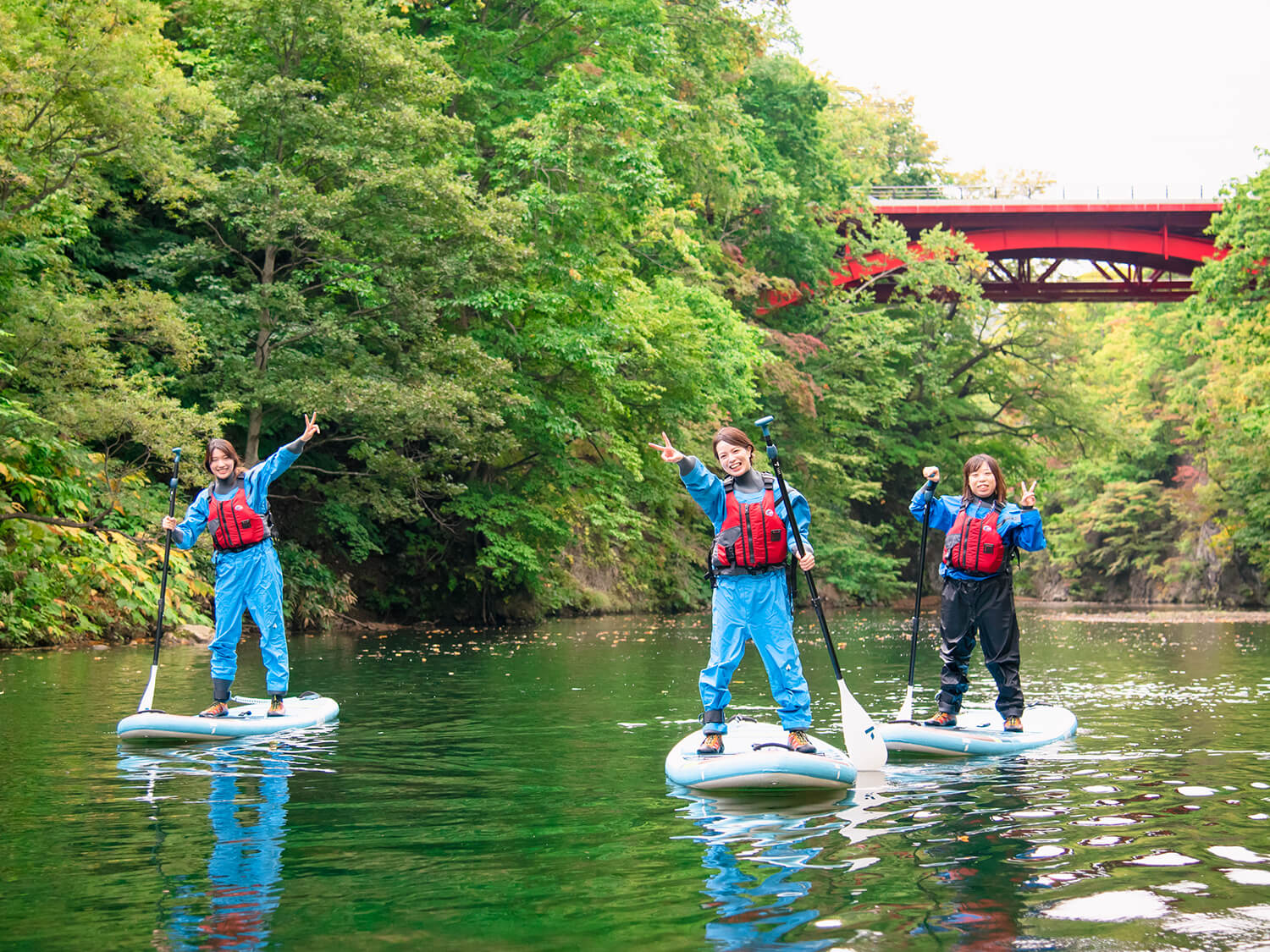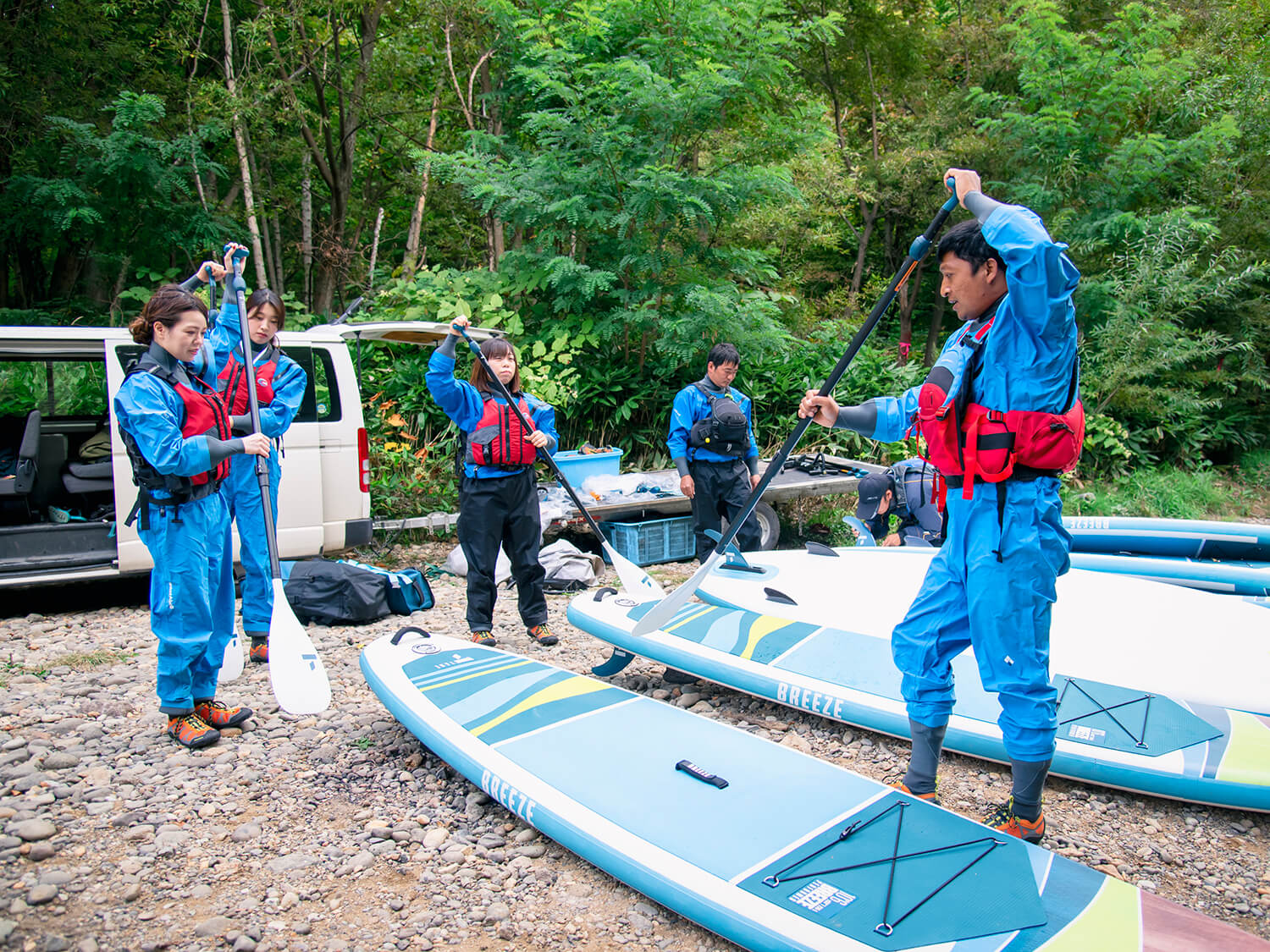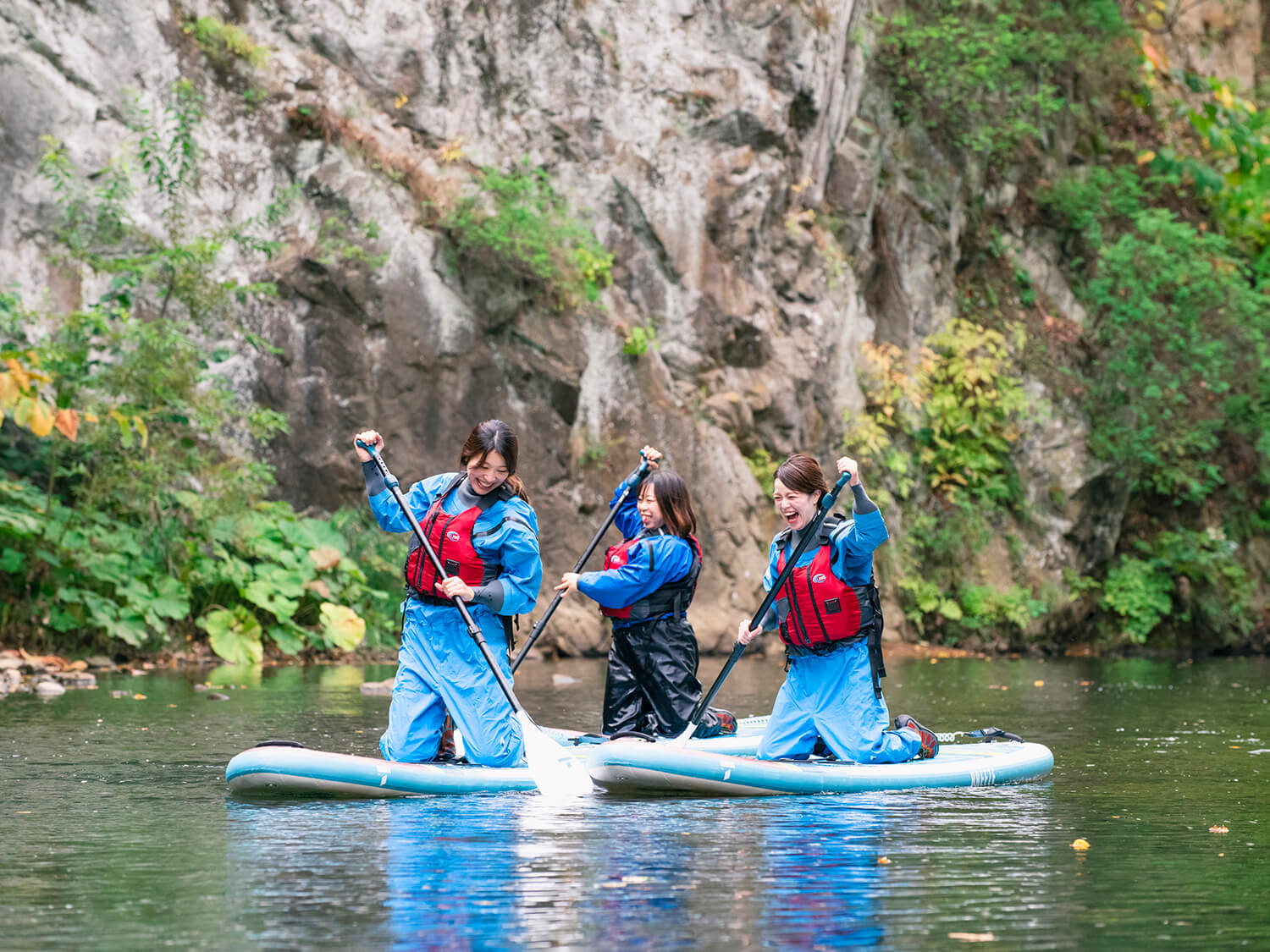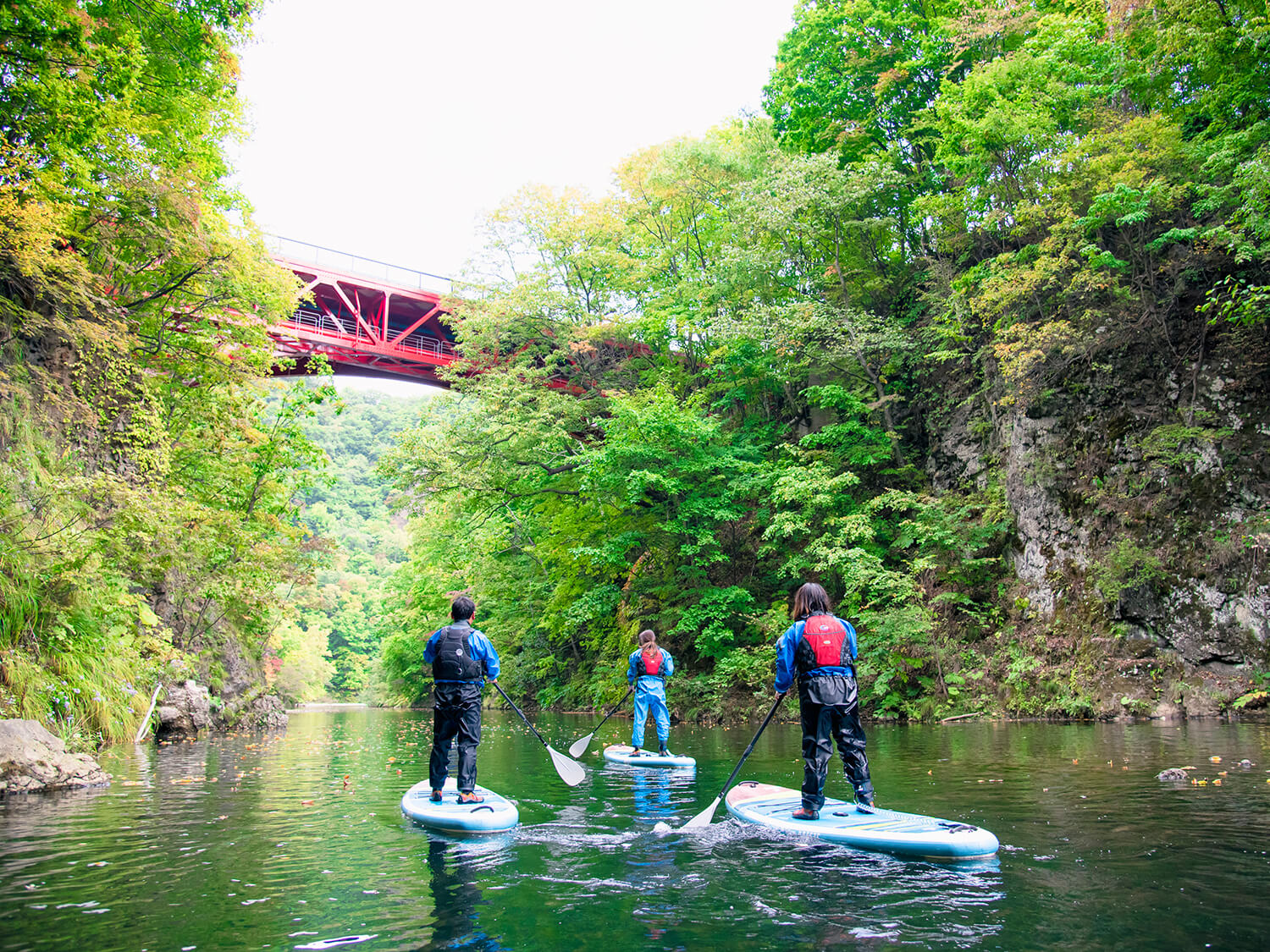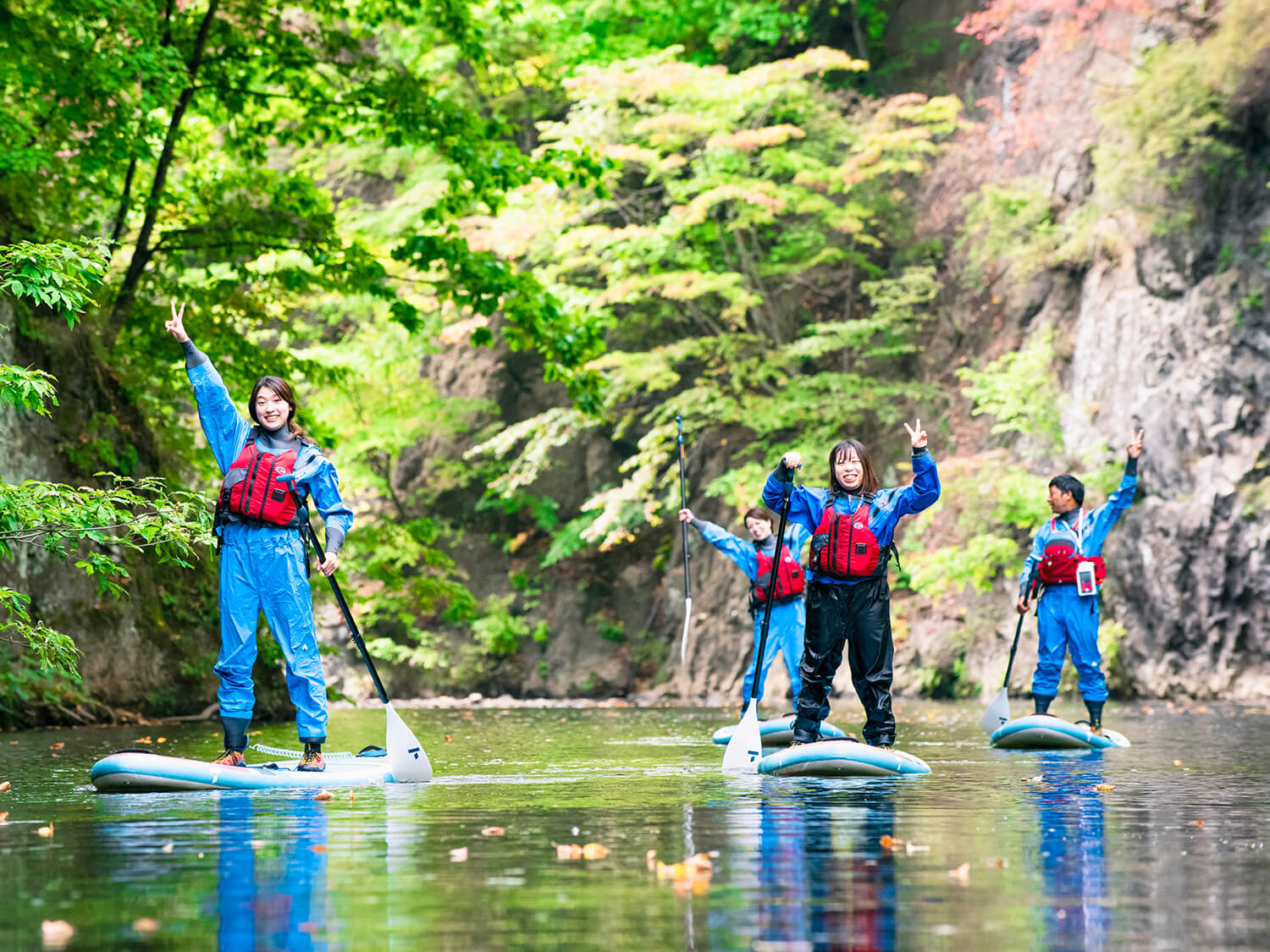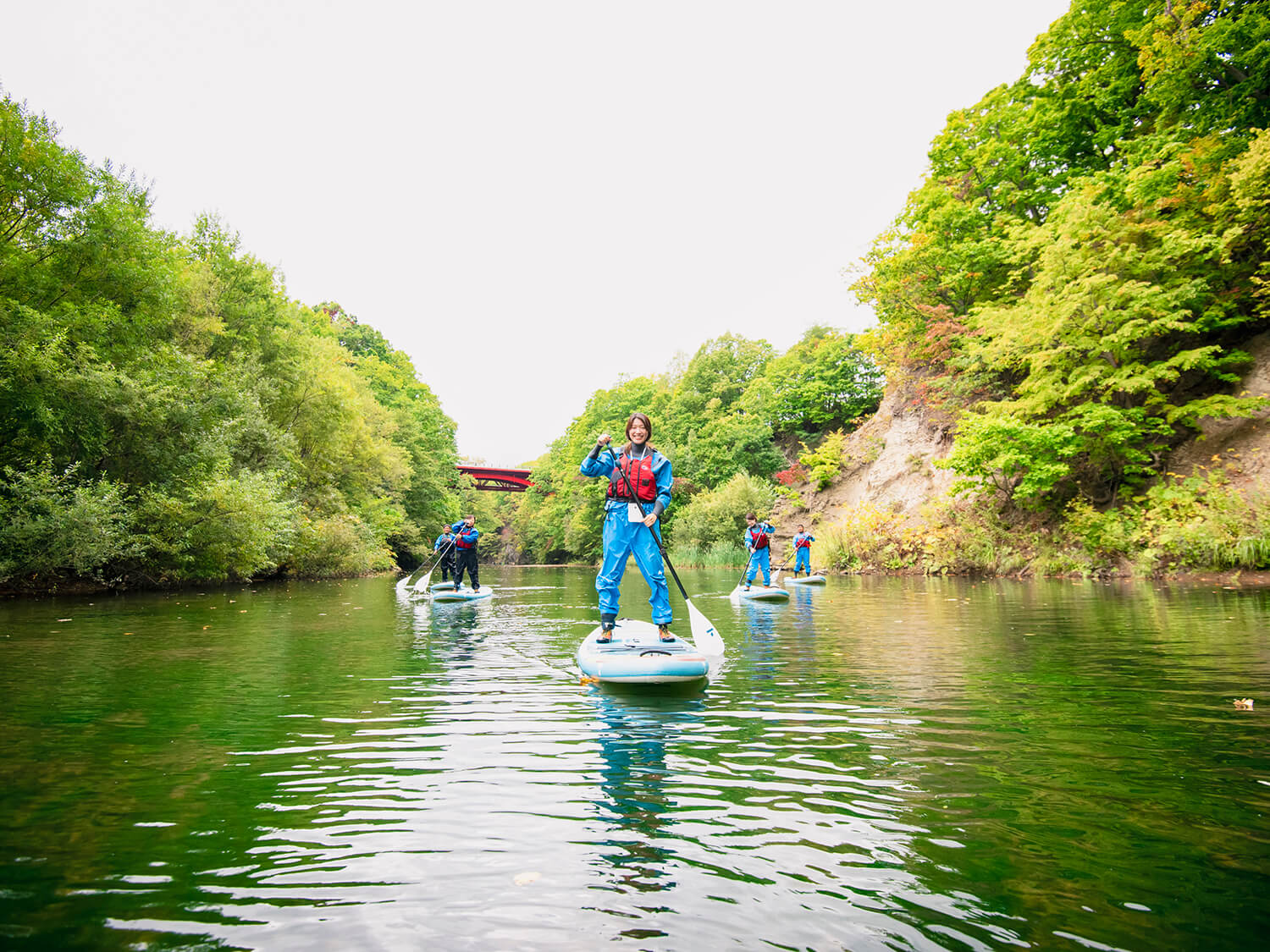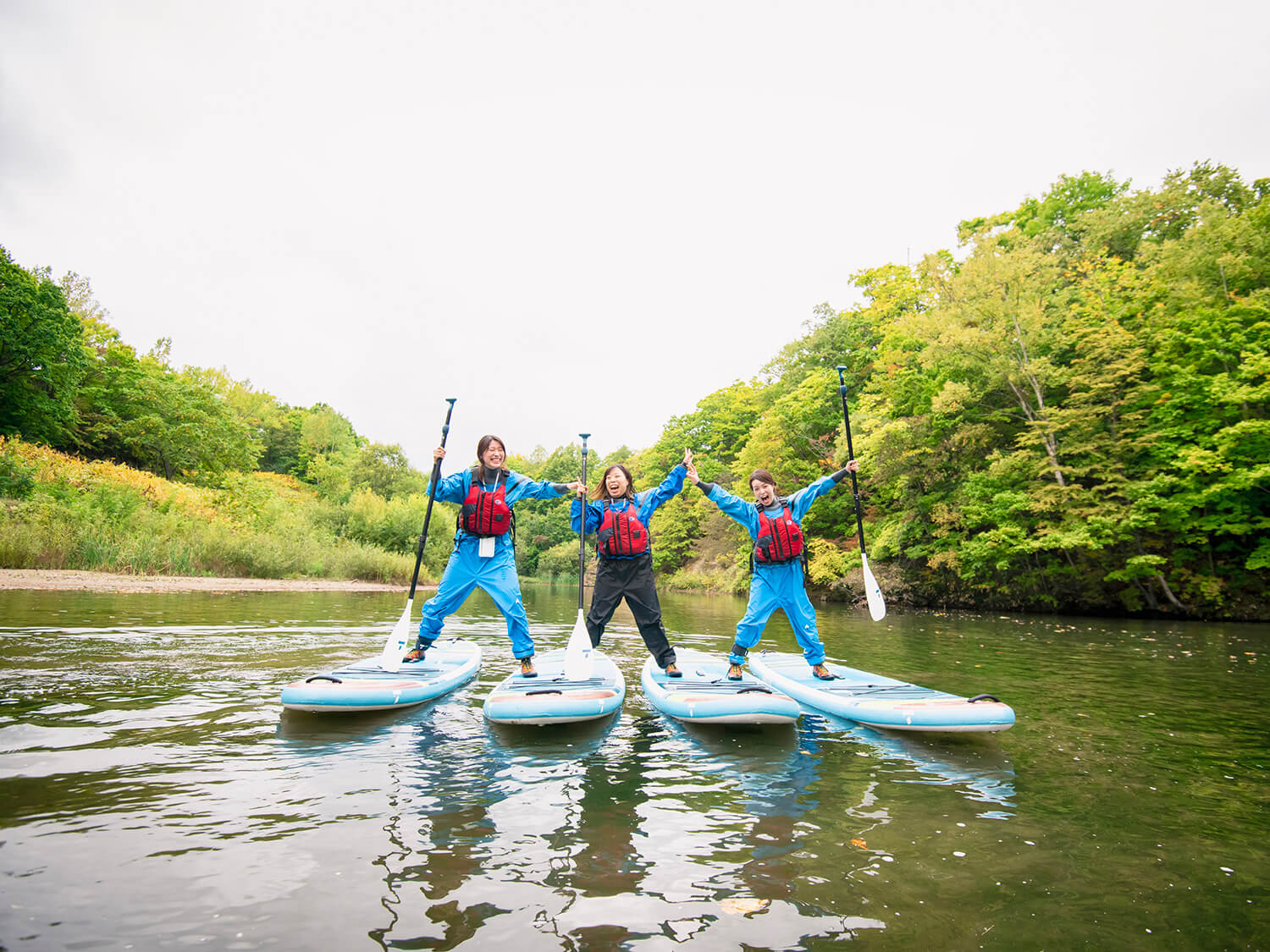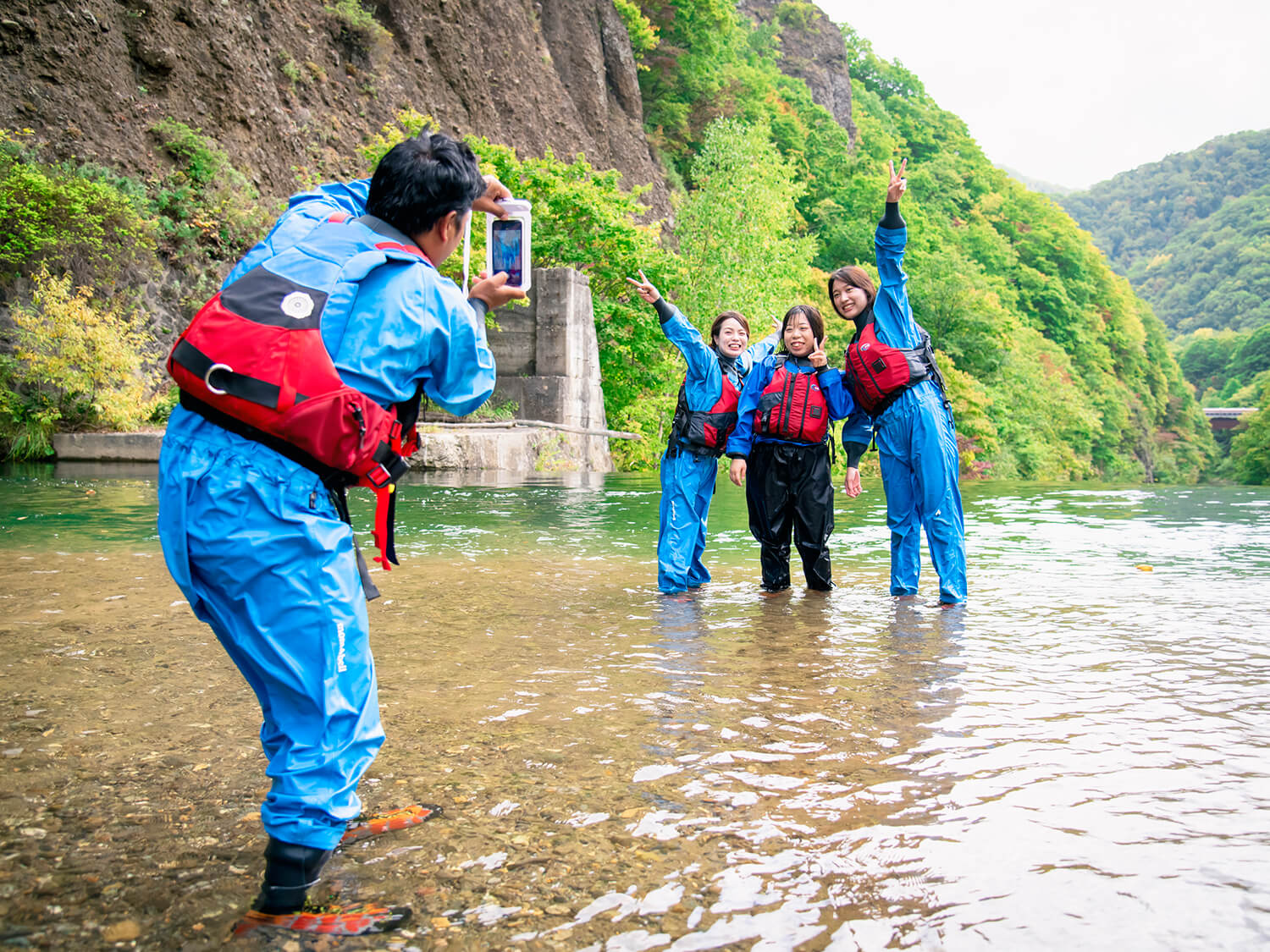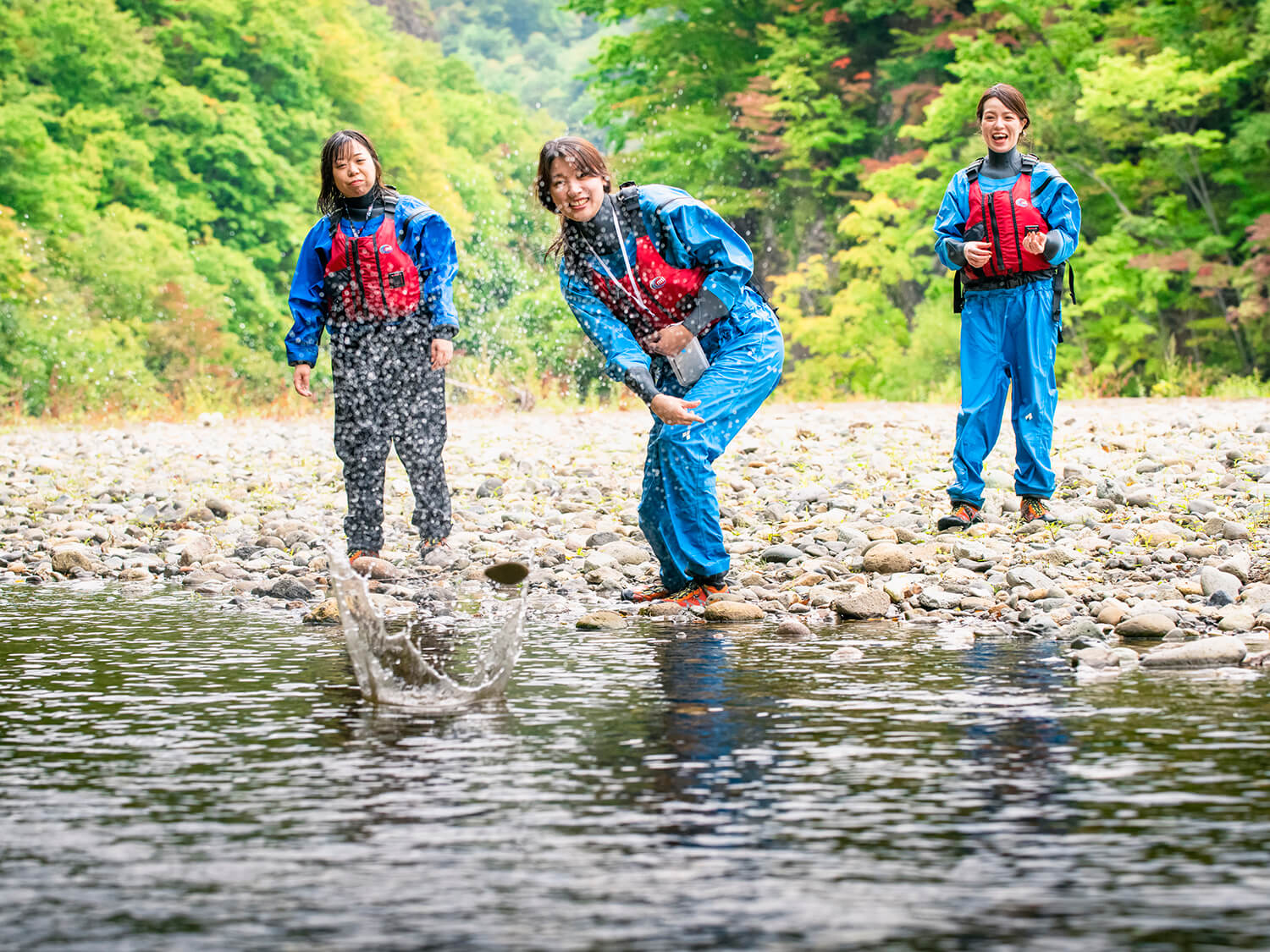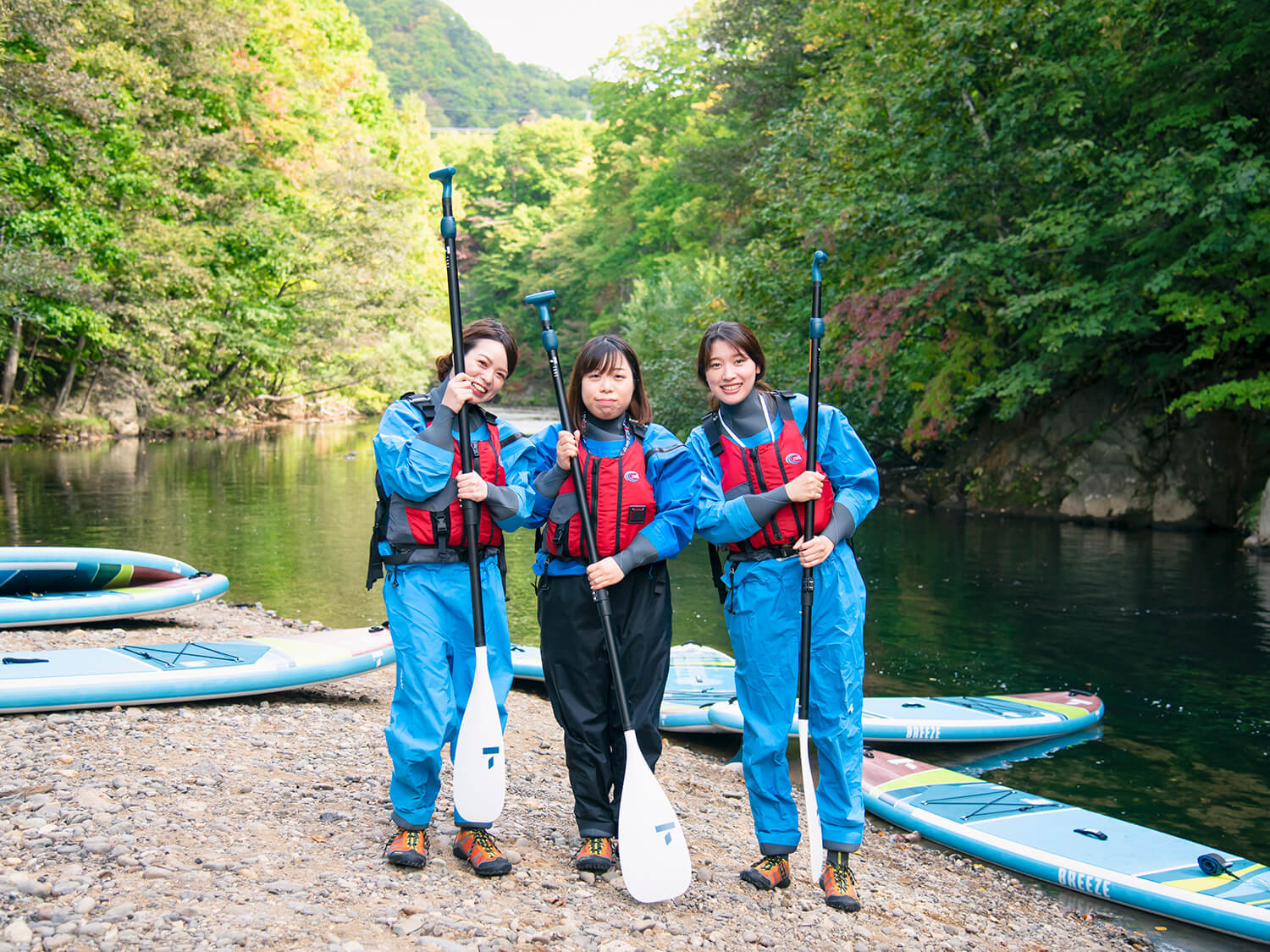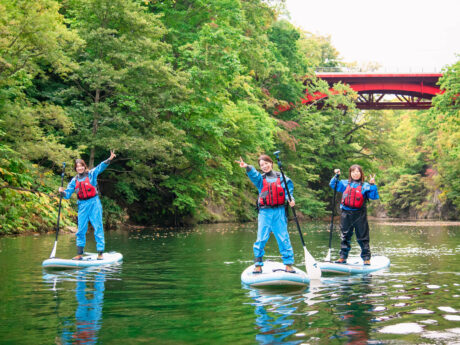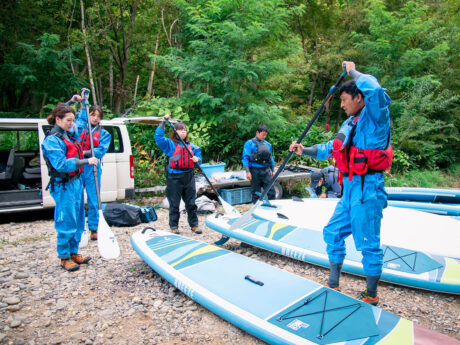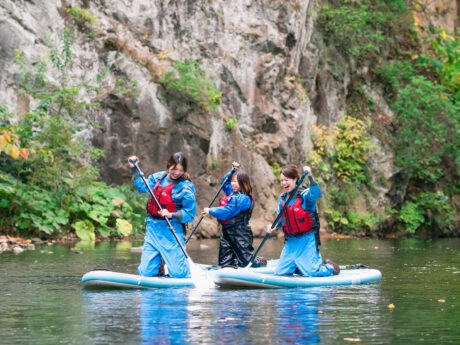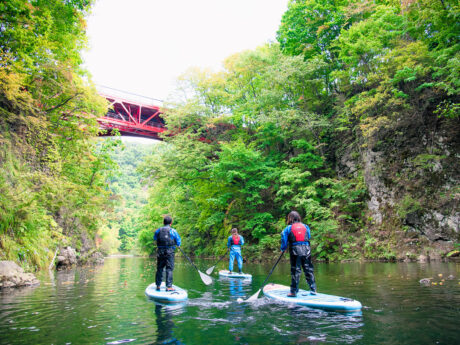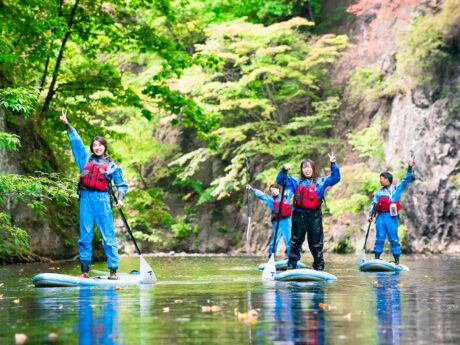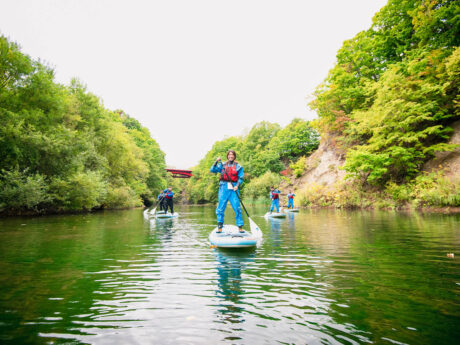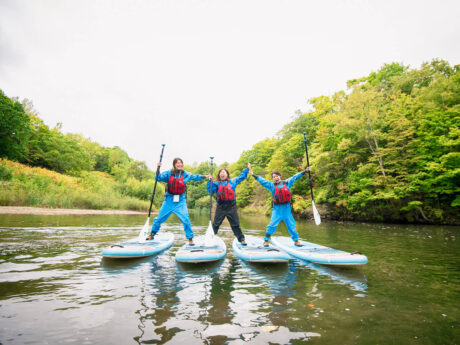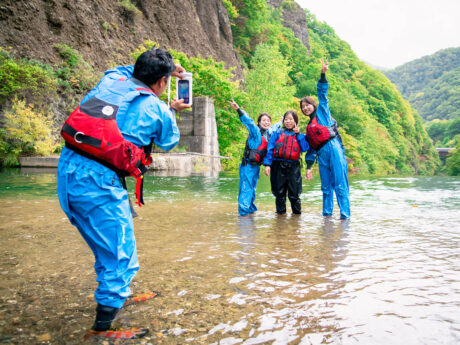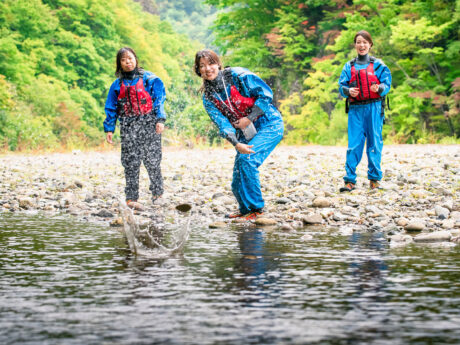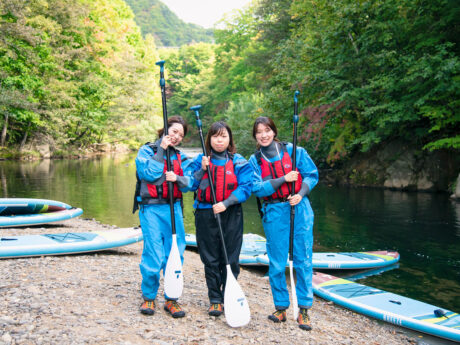 Dates of Operation
June - November
Requires a minimum
2 people +
Adult ¥5,000
Child ¥5,000
Preschooler ¥2,500
BOOK
Enjoy the popular standup paddleboarding (SUP) experience on the Toyohira River, which flows through Sapporo City! In the ravine next to Jozankei Onsen, you can enjoy the scenery while standing or sitting on a board. The average depth of the river is about 1 meter and the current is gentle, so there is no need to worry if you fall into the water. Some people even jump in by themselves when they get used to it. Children can also participate because the water is shallow.
We recommend wearing a life jacket (bring your own or rent one) and having a great time with your dog.
Dates of Operation

April 24, 2023 – Early November 2023
Starting Times

[1]10:00 a.m. [2]1:00 p.m.
Meeting Place

Taro-no-yu (Foot spa)
Address: Jozankei Onsen Higashi 3-chome, Minami-ku, SapporoGoogle Maps
Shuttle Services

Available (free of charge)
Hotels at Jozankei onsen area ⇔ Taro-no-yu (Foot spa)
Course Distance

About 1km
Age Range

age 3+


*Participants under 18 y/o must be accompanied by a parent or guardian.
Price

| | |
| --- | --- |
| Adult(age 13+) | ¥5,000 |
| Child(age 6+) | ¥5,000 |
| Preschooler(age 3+) | ¥2,500 |
| Dogs allowed | No charge |

*The above rates include consumption tax.
*The above fees include SUP board & paddle use, life jacket rental, and insurance.
*Infants (3 y/o to preschooler) must ride with an accompanying parent or guardian.
*There is no charge for dogs, but they must wear life jackets (rental available for a fee).
*Dog life jackets rentals (¥1,000 / tax in), please make a reservation in advance.
Time Schedule

Example of a 10:00 a.m. start

9:45 a.m.

Meet at the Taro-no-yu (Foot spa)

9:50 a.m.

Move to the starting point and registration.

10:00 a.m.

Experience Lecture *Don't worry, our guides will teach you carefully…

10:20 a.m.

Let's get going! Start out by just sitting on the board and take your time…

11:45 a.m.

Goal

12:00 p.m.

End of tour.
What to Wear / Prepare

Wear comfortable clothing such as sweats, that is divided into upper and lower garments (no skirts or jeans).
If you want to jump in and play in the water during summer, wear clothes you don't mind getting wet and bring a change of clothes.
Avoid high heeled shoes and wear shoes with good stability (sneakers, crocs type sandals, etc.).
Free rental of dry suits and river shoes is available for chilly days (advance notice required).
Towel
Note

If traveling by car, a guide car will lead you from the Fureai Taro no Yu to the free parking lot.
The tour may be canceled if the staff deems it dangerous due to weather or water conditions (rain or shine).
Please remove all jewelry and watches (insurance does not cover them in case of damage or loss).
Cameras and smart phones are not allowed on the boat (insurance will not cover them in case of damage or loss).
Safety is the guide's priority, but please be aware that this is a nature experience and you are ultimately responsible for your own safety.
Persons under the influence of alcohol, pregnant, or in poor health are not allowed to participate to prevent accidents.
Any dog that you wish to bring along must wear a life jacket (refer to price list).
Groups up to approximately 15 people can be accommodated (please inquire in advance).
Minors must apply with the consent of a parent or guardian.
Payment

Payment for online booking is by credit card only.
Cancellation Policy

Cancellations received 2 days prior to the booking will incur no cancellation fee.
Cancellations received 1 day prior to the booking will incur a 50% cancellation fee.
Cancellations received on the day of the tour will incur a full 100% cancellation fee.

*No cancellation fee will be charged if the tour is cancelled due to bad weather conditions.
*Please contact us as soon as possible in case of cancellation. This is because our staff is preparing on site.
Please read our Privacy Policy before making a reservation.
If you agree with the details, please check the checkbox and proceed to the reservation screen.
*Minors making reservations must do so with the consent of a parent or guardian.
BOOK
(10 a.m. - 5 p.m.)